LEARNING FROM IN-COMPANY CASES: DRIVERS, BARRIERS AND RECOMMENDATIONS FOR PARTICIPATIVE PSYCHOSOCIAL RISK PREVENTION PROCESSES TO CHANGE WORKING CONDITIONS.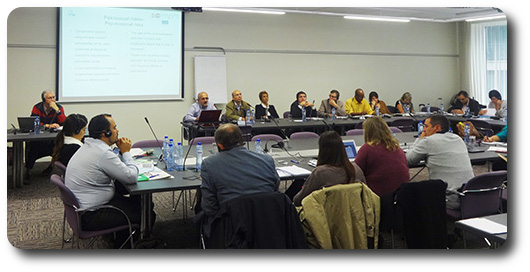 E-IMPRO project sought to locate and analyse knowledge and experiences on participative psychosocial prevention processes at the workplaces in order to achieve a healthier work organisation. It focused on southern European countries: France, Italy, Spain and Turkey, since most of psychosocial experiences of participatory prevention known to date are located in northern or central EU countries, in a very different economic and social context. The goal was to identify drivers, barriers and successful practices on the basis of a networking cooperative effort led by ISTAS-CCOO and developed in cooperation with Associazione Bruno Trentin – ISF- IRES, Dokuz Eylül University, Émergences, ETUI, EU-OSHA, GREDS – EMCONET (UPF), IF Metall and INAIL, funded by the European Commission. The purpose of this final conference addressed to social partners is to disseminate and discuss E-IMPRO project findings and conclusions.
Agenda
Wednesday, 15th October
13:30 - 14:00 Registration
14:00 – 14:30 Welcome words: Aida PONCE, ETUI and Pedro LINARES, CCOO-CES
E-IMPRO PROJECT'S KEY ASPECTS. Chair person: Fabienne SCANDELLA, ETUI
14:40 – 15:00 Literature review observations by Laia OLLÉ, GREDS-UPF
15:00 – 16:40 Cases panel:
- Spain: Codorníu-Sant Sadurní; FAE- Franciso Albero; Hotel Colón by Clara LLORENS, ISTAS-CCOO
- France: France Télécom (AG-Pro); Hôpital Trousseau; RAPT-GIS by Sophie BERLIOZ, Émergences
15:40 – 16:00 Coffee break
- Italy: Centro Analisi Monza, Cernusco sul Naviglio Municipality, Telecom Italia by Cristina di TECCO, INAIL
- Turkey: DELPHI, NEKA, TUPRAG by Ceyda SAHAN, DEU
16:40 – 17:00 Learning from in-company cases: drivers, barriers and recommendations by Clara LLORENS, ISTAS-CCOO
17:00 – 17:30 Questions and discussion
Thursday, 16th October
09:00 –09:20 ESENER's results on employers and workers representatives' participation in psychosocial risk prevention activities by Malgorzata MILCZAREK, EU-OSHA
09:20 – 10:30 Round table 1: How to combine social and technical parts of the participative psychosocial risk prevention processes? Chair person: Yucel DEMIRAL, DEU
Participants:
- Adelina BENEIT (OH&S Manager, Codorníu)
- Ibrahim DOGANGÜL (Financial Secretary, Turkish Petrolium Union)
- Michele MAZZONE (CGIL OH&S Workers' Rep, Comune di Cernusco sul Naviglio)
- Javier SÁNCHEZ (CCOO Workers' Rep, FAE).
10:30 –11:00 Questions and discussion
11:00 – 11:30 Coffee break
11:30 – 12:45 Round table 2: How to build social partners' cooperation for the prevention process at company level? Chair person: Daniele DINUNZIO, Bruno Trentin ISF IRES
Participants:
- Jordi CAMPAMÀ (HR and OH&S Manager, FAE – Francisco Albero)
- Ahmet DEMİREL (Workers' Rep, NE-KA)
- Victor PECOME (CGT Workers' Rep, Hôpital Trousseau),
- Antonella ZOLLA (National OH&S Manager, Telecom Italia Group)
12:45 – 13:15 Questions and discussion
13:15 – 14:45 Buffet lunch
 
14:45 – 16:00 Round table 3: How can we make feasible the necessary improvement of working conditions? Chair person: Pascale GABAY, Émergences
Participants:
- Sebastiano BAGNARA (President, SBD Company)
- Ada BASKAYA (HR Manager, Delphi)
- Antonio CRUCES (CCOO Workers' Rep, Codorníu)
- Danièle TEZIER (CGT Workers' Rep, France Telecom)
- Renaud PELLE (General Manager, Hôpital Trousseau)
16:00 – 16:30 Questions and discussion
16:30 – 17:00 Participative processes to achieve change in psychosocial risks prevention by Salvador MONCADA, ISTAS-CCOO
Venue: The International Auditorium. Room B